Cooper

High School




Class Of 1969
It's in the Books!
Our 50th has come and gone with, if I say so myself, roaring success - and all of that is due to YOU! None of it would have been possible had you not been there, therefore, many thanks to all who were able to attend! To those of you who weren't you were missed & we hope you will make the next one (more info to follow). Keep your info updated at all times so that no one misses out. We will be keeping this website site, open (thanks to your generous contributions) as well as our Facebook page, Cooper HIgh School Class of 1969. The reunion committee heard from many of you that waiting 10 years might be a tad too long - so we will look into regrouping in 5 (2024!), with a shortened schedule at more than likely the same time of year. Again thanks to your contributions and the willingness of our vendors to work with us, Gary Shahan has reported that we have some good seed money to start planning the next reunion - approximately $3000!!! On behalf of the entire Reunion Committee, thank you for supporting us and all Seniors '69. We had a blast meeting and putting everything together. Don't hesitate to let us know what you liked, what was lacking, & what you'd like to see next time! Until then....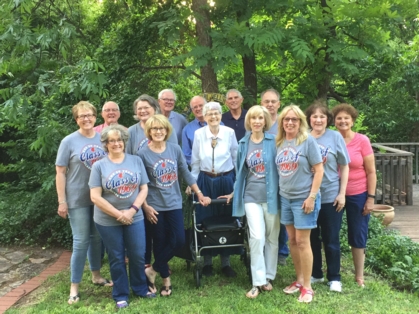 Missing from photo: Andy Duvall, Doug & Frances Wiiliamson, Chris King Faehnle
Cooper High Class of 1969 50th Reunion
Friday April 26 and Saturday April 27th
We're going to have a great turnout!
Online registration is now closed.
We have a very limited number of places for the Friday and Saturday events. If you would like to come to one of the events below,

please click here to email Toni
.
Summary of Dates, locations and times:
Welcome BBQ with AHS 1969 class
Friday April 26 beginning at 6:30 p.m.
Big Country Hall, Taylor County Expo Center
Dress: casual/jeans
Lunch with favorite teachers at CHS Cafeteria
Saturday April 27 beginning at 11:00 a.m.
Cooper Cafeteria
Class group photo
followed by walking tour of Downtown Abilene
Dress: casual/comfortable
Saturday night Italian dinner and dance
Saturday April 27 beginning at 6:30 p.m.
Center for Contemporary Arts
220 Cypress Street, 79601
Dress: Born to be Wild/Hippie/comfortable
CALLING ALL GOLFERS!!!
The (in)famous Jim Schanbacher has decided that it would be a great idea for some of us to play a round of golf on the morning of Friday, April 26, before all the reunion festivities begin. He has 4 tee times set up right now at Diamondback beginning at 9:45 am. If interested contact Jim by email at schanbacher@live.com or text him at 972-505-6299 ASAP!
$50 green fee & cart. If you've not registered for the Reunion activities please do that as well! Call or text all your friends to remind them as well as we want as many as possible to decide if they want to attend or not.
T-Shirts
If you ordered a T-Shirt by April 15, the shirt will be available for pick-up at the Saturday April 27 lunch at CHS Cafeteria. Plan to wear it for the Class Photo at 12:30!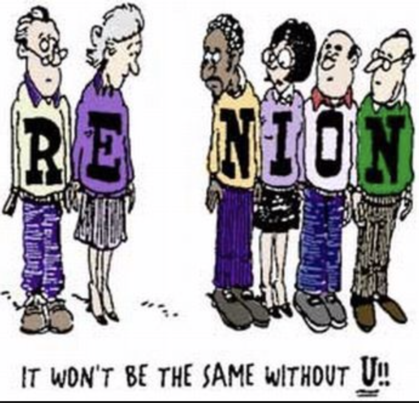 Need the address to send checks or donations? Make checks payable to:
Class Reunion Cooper High School
c/o Gary Shahan
5277 Wyndham Ct
Abilene, TX 79606
Although we were missing several members, just a snapshot of your reunion committee. Can you guess all the names???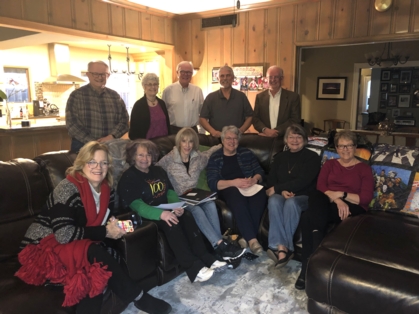 L-R: front row Chris King Faehnle, Nita Johnson Brewer, Cathy Clay, Frances Wilson Williamson, Janet Hitt Murray, Dara Stephens Rhodes
Back row Doug Williamson, Janet Weeth, Bill Minter, Jim Schanbacher, Gary Shahan
Missing Andy Duvall, Ted Krieger, Kathy Harkey Krieger, Craig Young, Debbie Blessing Harrison, Donna Kay Covington Wittliff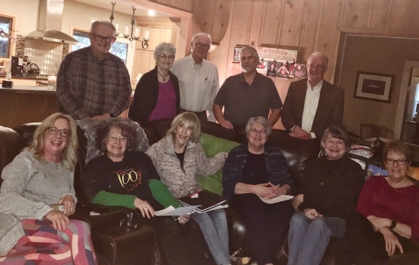 All the same except bottom row Toni Terzian Wellhausen
Here is info on the hotel block that we have for you. Many thanks to Cathy Clay for setting this up for us.
Holiday Inn Express
3112 South Clack
325-695-0500
Room block is under CHS 50th Class Reunion. Total price, including tax is $118.45 per night. We have blocked 12 single bed king rooms (with pull out sofabed) and 12 rooms with 2 queen size beds. Breakfast is included and free wifi. Each room has work desk, refirgerator, microwave & coffee maker. Cut off date is April 1 - so book now!
PLEASE! If you know classmates that aren't on this site, please get them on. All ticket sales will be done through here, and we want everyone included!
Please Update your Info!
What we need now is current info for as many classmates as we can get. PLEASE, reach out to all for whom you have contact info and ask them to join/update info on this site. For info on how to update your vitals on this site, see the message below.
Also a Facebook group has been created - hop on it with all your friends!
Cooper High School Class of 1969 on Facebook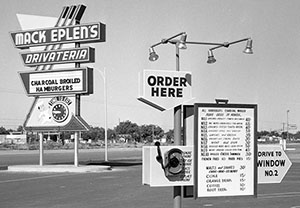 Ahem! Class of 1969!
This is the Year!
It's getting close! Please check your details on file here at Cooper69.com for accuracy - How many times has that email address changed? Stay tuned to the site for more details forthcoming. To update, click on "Edit Contact Info" under Member Functions to the left. If you've forgotten your password, you may reset it by clicking "Forgot Password" in the login box to the right.
---
New Photo Editor is available - Post your photos!
Recently a new Image Editor was added to our class web site. The Image Editor allows you to fix numerous photo problems, such as adjusting an incorrect photo orientation, or making a simple color tweak. Here is an overview video: https://youtu.be/7XxG-OI-1HM
You can go into your Profile and upload a new image. Give the new photo editing tools a try and play with the various features. With these new tools the images you share with classmates will look their very best!
---
Contributions Made - We have such an amazing class and due to your generosity the CHS Class of 69 has made donations to the Whit Cammack Foundation (www.thewhitcammackfoundation.org) and the Abilene Education Foundation (http://www.aaeeff.org/). In addition, we have received enough donations to keep the web site up and going for another year and still have some money left! Thank you for your thoughtfulness and generosity. While we all had the very best time at our 40th, it is encouraging to know that through the generosity of our class members, we are able to give back. Blessings to each and every one of you.
---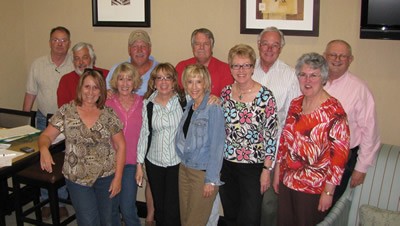 This is your hard-working committee after happy hour. Oops-we mean after a strategy session. Well we do need an updated photo! This was before the 40th!
Front row, L-R: Pris Pierce Lester, Debbie Blessing Harrison, Toni Terzian Wellhausen, Cathy Clay, Dara Stephens Rhodes, Frances Wilson Williamson. Back row, L-R: Ted Krieger, William Lamar, Danny Stevens, Buzzy Hubbard, Bill Minter, Doug Williamson.
Privacy and your profile: We like this service (ClassCreator.com), because they don't ever release your information or try to sell you something. There are some things to know about whether you want Google and the other search indexes to pick up your information from your profile or not. Read the info under Privacy Concerns to the left, then review your profile to make sure you have the right settings to suit you.
Would you like to send a few bucks to the committee to keep this site going? The ClassCreator folks have been great; this site is being used by Seniors 1968, 1969, AHS 1969 and others. We have free status but would like to support their efforts until the ... [ahem] fiftieth. It's only $97 a year to keep it going (discounts applicable), so $5-$20 would go a long way. Contributions will be accepted at any time.
SaveSaveSaveSave
ANNOUNCEMENTS
•

My heartfelt thanks for the generous donation to The Whit Cammack Foundation. I was deeply moved by such a kind gesture. Together, we make a difference. I wish, for everyone, joy and bountiful blessings. Thank you for all of those precious, unforgettable and irreplaceable moments that we shared in the past, and for all of those to come.


Caroline Cammack "Stew"
Executive Director
The Whit Cammack Foundation
UPCOMING BIRTHDAYS